The equity market has surpassed its 2007 peak already and the bullish cheerleaders are just jumping up and down for new record highs. However, there is one relationship that has yet to breakout – the S&P 500 and 10-year Treasury ratio. There is a falling trend line from the 2000 high to the 2007 high that we are slowly approaching.
Below is a monthly chart of the S&P 500 (
$SPX
) vs. the 10-year Treasury Note (
$UST
), this is comparing the price action of stocks vs. bonds (not bond yields!) going back to 2000. The falling trend line has yet to be tested and while we can speculate its importance, until we get there we can't know. If things continue to shape out as they have been for the last couple of months with equities kicking the tail off of bonds then we will find out sooner rather than later what the reaction will be to this resistance and its implications for the capital markets. Until then we patiently wait.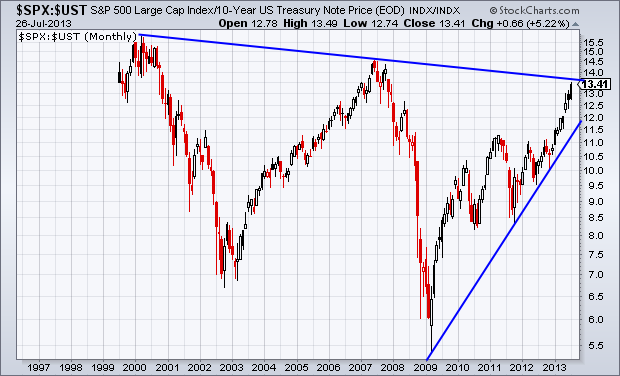 http://www.athrasher.com/the-relationship-between-stocks-and-bonds-approaches-resistance/